Subject areas

General Subjects of Power Engineering
Steam-Turbine, Gas-Turbine, and Combined-Cycle Plants and Their Auxiliary Equipment
Heat and Mass Transfer and Properties of Working Fluids and Materials
Renewable Energy Sources, Hydro Power Engineering

Steam Boilers, Power-Plant Fuel, Burner Devices, and Auxiliary Equipment of Boilers
Nuclear Power Stations
Metals and Strength Analysis
Water Treatment and Water Chemistry
Automation and Heat Control in Power Engineering
District Heating Cogeneration and Heat Networks
Environmental Protection
Electrical Part of Thermal and Nuclear Power Plants
About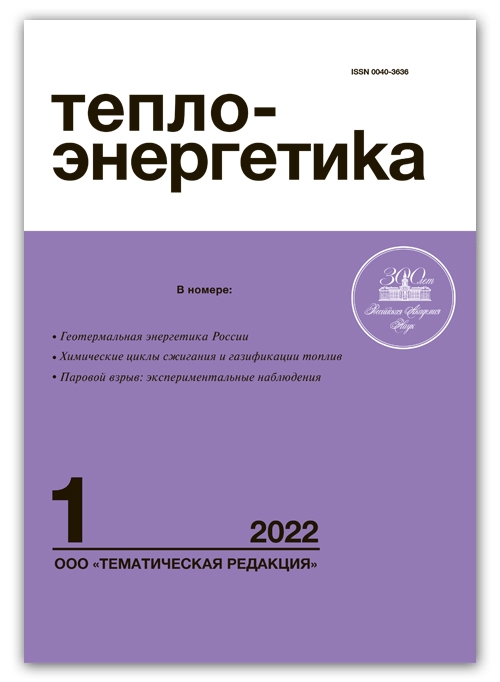 | | | | |
| --- | --- | --- | --- |
| Scopus Index | 2019 | 2020 | 2021 |
| Cite Score | 1.5 | 1.9 | 1.5 |
| SJR | 0.397 | 0.602 | 0.382 |
| SNIP | 1.208 | 1.476 | 0.836 |
| H-index | 18 | 20 | 22 |
| | | | |
| --- | --- | --- | --- |
| RSCI Index | 2018 | 2019 | 2020 |
| Impact factor | 2.444 | 2.194 | 2.240 |
| Science Index | 1.235 | 1.704 | 2.623 |
The journal "Teploenergetika" ("Thermal Engineering") is a monthly theoretical and scientific-engineering journal.
The journal publishes materials on the current state of science and technology in the field of thermal and nuclear power engineering, heat technologies and related spheres. Covers the issues of rational and efficient use of fuel and energy resources, environmentally friendly and waste-free technologies, renewable energy sources, cogeneration, materials, solutions to the most urgent scientific and technical problems in the field of power engineering including power equipment design and operation, heat transfer and applied thermodynamics. The journal is intended for scientists and specialists, working at power plants and enterprises of the power industry, in construction, mounting and design organizations, research engineers, scientific and pedagogical workers and students in specialized areas.
The journal "Teploenergetika" was initiated by Academician V. A. Kirillin. The first issue of the journal was published in January 1954, and since 1974 the journal has been fully translated into English under the name Thermal Engineering.

Founders of the journal: Russian Academy of Sciences, National Research University "Moscow Power Engineering Institute".
The publisher of the English version is Pleiades Publishing, Ltd., and since January 1, 2021,
the Russian version of the journal has been published by Tematicheskaya redakciya LLC.
The journal "Teploenergetika" is indexed in the Russian Science Citation Index on the Web of Science platform.
The translated version of the journal - Thermal Engineering (completely identical to the Russian version) is indexed in the international scientometric databases Scopus and Web of Science (Emerging Sources Citation Index).
Thermal Engineering is available online by subscription from http://www.springer.com, http://link.springer.com
FAQs

Does the journal provide complimentary copies of the publication to the authors?
Yes, it is. Electronic copies of the articles are sent to the authors by e-mail.
The Russian version of the journal "Teploenergetika" ISSN 0040-3636
The English version of the journal Thermal Engineering
ISSN PRINT: 0040-6015;
ISSN ONLINE: 1555-6301
Editor-In-Chief: Aleksei Dedov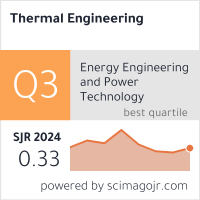 Thermal Engineering is abstracted and/or indexed in:
SCOPUS, Google Scholar, Web of Science (Emerging Sources Citation Index)
Partners